Happy Saturday, loves! We are so excited to bring you our first guest post today by Michelle of Chaos & Coffee, one of our lovely sponsors and certainly a Wonder Woman in her own right. With lots of little ones and a house full of chaos, Michelle joins us today to share some of her money-saving tips when it comes to baby products. We hope these hints will help all you wonderful mamas without breaking the bank! Have a great weekend!
—————————————————-
Hey there R&R readers. My name is Michelle Tanner (not to be confused with an Olsen twin), and I blog over at Chaos & Coffee.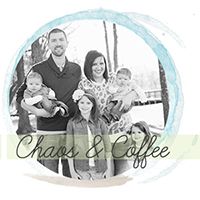 I am a mama to 4 fabulous kiddos and a wife to 1 pretty awesome hubby. My days are spent managing the chaos that comes with a family of 6, and my sanity all while drinking large amounts of coffee.
Today I wanted to share with you guys some amazing baby product "dupes" that I have found in my 9+ years of being a mama. With 4 kiddos we try and watch the budget pretty tightly. Four mouths to feed and four college educations to fund. So, when we can still get quality products without paying the higher price tag this mama is all for it.
This is one I found a looooong time ago that saves us a lot on something I do allllllllllllllll the time.
I don't even remember who it was that told me about this product, but I am so thankful they shared. I have been using Baby Purex since Madisyn was in diapers. I can only find it at Walmart, but I go about once a month and stock up. It cleans great, removes spit up and stains amazingly and honestly I even like the way it smells better. And the price?! You can't beat it.
Another one I am loving,
Ah, the beloved Sophie giraffe. I will be honest I am a huge Sophie fan. Megan LOVED hers, but with the twins, at $30 a pop I decided to look around and see if there was a cheaper option. Lo and behold, I found this Infantino Go Ga Ga Monkey Teether at Target for $9.99 (online price says $12.99). We gave them to the boys in their Easter baskets and well…..
Clearly, they are fans.
If you don't have a Sophie or haven't wants to pay the higher price for what the nursery workers at our church refer to as a "glorified dog chewie" I highly suggest you check out the Ga Ga Monkey. It's Bubba approved.
Next on the list,
Another amazing savings. While I am a huge fan of the Kidsme Feeder I purchased off Amazon, the $13 price tag is a bit steep. Especially when I need multiple for my multiples. I am not a fan of the mesh bag feeders due to the cleaning, so when I can across this bad boy at Target (sorry I could not find it anywhere online) and saw the $4 price tag I knew I had to give it a try. It is fantastic. Easy for the boys to hold. Stays locked. Easy to clean. A huge WIN in my opinion.
Frozen Mango is the bubbas favorite to chew on and it keeps them occupied a good 45 minutes. Can we say blogging time for mama?
These are just a few of the so called "dupes" that have helped us to save money wherever we can. I recently was just made aware of cornstarch as a diaper rash cream? I may need to be giving that one a try pretty soon.
What are your must have baby dupes? Any items I am totally missing out on?